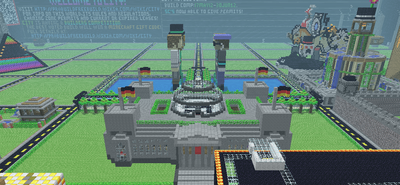 Congratulations to Skyara, Winner of the first City Builders Contest!

The contest is redrawn every 3 months. More info available Here
City is a special world in Probuild 24/7 for Citizens+ to earn the right to build in.
For the list of current leases, go here.
The world is divided into 60 plots, with a spawn in the middle. Each plot has a specific zone applied to it, and no-one else can build there but that user. This protects works from grief 100% garunteed.
Citizens can apply to a Supreme Commander for a building lease. The Supreme Commander will then assess the build idea or the build quality history of the user, and if successful, will grant that user the right to build in a plot.
The minimum lease term is 3 months, garunteed that your build will not be touched. However, after 3 months, the oldest builds will be removed to allow newer builds, if that citizen is no loger active on Probuild 24/7. To protect your property, just log in and visit us! you last join date will be updated, and when we go to clear your plot, we will see that you're still around and abort the procedure!
Obviously, there are LIMITED places! the world is 512 * 512 * 64, with 60 building plots, plus roads and walls. Get in early and save a place in probuild history! Remember, only Supreme Commanders+ can grant the zone building rights. A zone, in a way, is thus the next big step after acheiving the highest building rank!
How to earn a zone lease:
Earn the rank of Citizen.
Attain 30 hours minimum of play time.
Apply to a Supreme Commander+ for a spot
Once you HAVE a zone lease:
Your build must be completed within two weeks, or in the case of complex builds, they need to be continuously receiving work to maintain/develop the work. Builds that do not have this will have their zoning lease terminated.
Admin Info:
Granting Zone Leases:
/zedit [address] +PlayerName
Removing Zone Leases:
/zedit [address] -PlayerName
Current Zone Leases:
A
B
C
D
E
F
G
H
0

troyg1994

(1/7/12 -> 1/10/12)

gunrise1

(25/6/12 -> 25/9/12)

CheezeSnaps

(11/6/12 -> 11/9/12)

CupCakeZay

(10/6/12 -> 10/9/12)


GUNSL1NG3R1887

(10/7/12 -> 10/10/12)

joshfobable

(13/5/12 -> 13/8/12)

yoshibear5

(10/5/12 -> 10/8/12)

0
1

GameDude801

(18/6/12 -> 18/9/12)

123hawks

(18/6/12 -> 18/9/12)

Steeler64

(2/7/12 -> 2/10/12)

speedstachugs

(24/5/12 -> 24/8/12)

CephiStarr

(11/5/12 -> 11/8/12)

OfficerFlake

(26/6/12 -> 26/9/12)

1
2

NeroDMCry

(23/6/12 -> 23/9/12)

TheCreativeAnne

(7/6/12 -> 7/9/12)

AwesomeDude389

(27/5/12 -> 27/8/12)

frenchdylan4

(28/5/12 -> 28/8/12)


Waterfair

(29/5/12 -> 29/8/12)

gamesteve

(23/6/12 -> 23/9/12)

OfficerFlake

(26/6/12 -> 26/9/12)

Ritterk

(17/6/12 -> 17/9/12)

2
3

those_guys

(11/5/12 -> 11/8/12)

PercyJackson117

(5/6/12 -> 5/9/12)

Iridius1

(12/5/12 -> 12/8/12)

Spawn


(5/5/12 -> -/-/--)

Spawn


(5/5/12 -> -/-/--)

silvytabitha

(1/7/12 -> 1/10/12)

TheSt0ryTeller

(26/6/12 -> 26/6/12)


darktaz4

(5/7/12 -> 5/10/12)

3
4

awesomesauce41

(10/6/12 -> 10/9/12)

guitarsage2000

(26/6/12 -> 26/9/12)

_Ninja_01_

(12/5/12 -> 12/8/12)

Spawn


(5/5/12 -> -/-/--)

Spawn


(5/5/12 -> -/-/--)

Gumdrop_pops

(15/6/12 -> 15/9/12)

tapios23

(29/5/12 -> 29/8/12)

Cupcake448

(2/7/12 -> 2/10/12)

4
5

sonicboom842

(10/6/12 -> 10/9/12)

PIZZAslaya

(10/6/12 -> 10/9/12)

jerrick2008

(19/5/12 -> 19/8/12)

TheSt0ryTeller

(5/5/12 -> 5/8/12)

Il_Lupo

(14/5/12 -> 14/8/12)

frenchdylan4

(2/7/12 -> 2/10/12)

5
6


coltie_81

(25/6/12 -> 25/9/12)

ComradeGhost

(11/5/12 -> 11/8/12)

RoflCopterPOW

(6/5/12 -> 6/8/12)

123DontMessWitMe

(6/5/12 -> 6/8/12)

Skyara

(24/5/12 -> 24/8/12)

6
7

IAMAB34ST

(10/5/12 -> 10/8/12)

NightStalker94

(10/5/12 -> 10/8/12)

EvolutionRXS

(2/7/12 -> 2/10/12)

Whaa_DaFuuqq

(2/6/12 -> 2/9/12)

Graph1kk

(1/7/12 -> 1/10/12)

BaMbIHaX

(21/5/12 -> 21/8/12)

7
A
B
C
D
E
F
G
H
KEY:
| (5/5/12 -> 5/8/12) | Lease Not Expired | UsernameColor | UsersRank |
| --- | --- | --- | --- |
| (5/5/12 -> 5/8/12) | Lease Expired | Spawn | City Spawn, Unleasable. |
Latest World Snapshot